Video Report of Harris Teeter Implementation in North Carolina
from WECT Channel 6 in Wilmington.

Use Your Fingers to Shop and Buy
"Apr 5, 2006 11:50 PM EST"
Fingering Out How to Reduce ID Theft
APRIL 5, 2006 -- An easier way to check out at the grocery store is now right at your fingertips. There's a new system in Wilmington Harris Teeter grocery stores that is making shopping more convenient. It's called "Pay by Touch" and it allows you to pay for your groceries by scanning your finger. All you need to enroll is a Harris Teeter VIC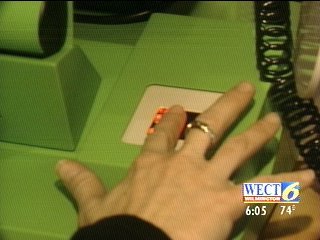 card, a blank check, and your driver's license. Your finger scan acts like a debit card, withdrawing money right from your checking account. And what's more, it can help cut down on identity theft. "Pay by Touch" is available at all seven Harris Teeter locations in Wilmington.